A Tracmor subscription has two components:
Your Tracmor URL, which is the application where you track your assets and inventory.
Your Tracmor Customer Portal, which is the account you create so that you can specify your payment method and manage your account, and that is the subject of this article!
Important: The following steps can only be carried out by the account owner admin (or anyone with the account owner admin's login credentials / email address and password).
Sign up for a paid subscription (no free trial period)
When you sign up for a paid subscription, both your Tracmor URL and Customer Portal accounts are created during the signup process:
Fill in the blanks (varies, depending on your payment method), then
click on Subscribe at the bottom of the Order Summary, and
check your inbox for login information to your new Tracmor URL.
Upgrading to a subscription during the free trial period
When you sign up for a free trial you skip setting up the Customer Portal account, since no payment is required. Once you decide to subscribe, you will need to set that account up so that you can manage your subscription and payment method. 
Important: To save your data past the free trial period, you must sign up for a paid subscription before the trial period ends!
Signing up during the free trial period takes only a few steps:
Navigate to the Tracmor website http://tracmor.com/ and click on Customer Portal (upper right hand corner)
- OR -
navigate to https://tracmor.chargebeeportal.com/portal/login,
- OR -
log in to your Tracmor URL and click on Subscribe Now in the upper left corner: 




Once the following window opens, do not enter an email address or password. Instead, click on the New User link "here" below the Login bar (see red arrow below) to initiate a new account creation process.


In the next window enter your email address, then click Submit. 




Chargebee will send you an email link that is valid for 5 days. Click on it to create your account by entering a unique password and clicking on Sign Up.

Note: This password is not related to your Tracmor URL login! (It can be the same but it is best practice to use a unique password for each type of account.)


Managing your subscription
Quick Access Tip
The account owner admin always has quick access to the Customer Portal either via the website (click on Customer Portal in the right hand corner), or by clicking on Admin and selecting Upgrade Plan:
Adding or editing account information
Once you've created your customer portal account, log in to provide (or update) your payment method and billing information. The type of information requested depends on your payment method.
To add both types of information, click on +Add, as shown in items 1 and 2 below. 
Note: If the information is already in place, instead of +Add, your options will be "update payment information" and "edit."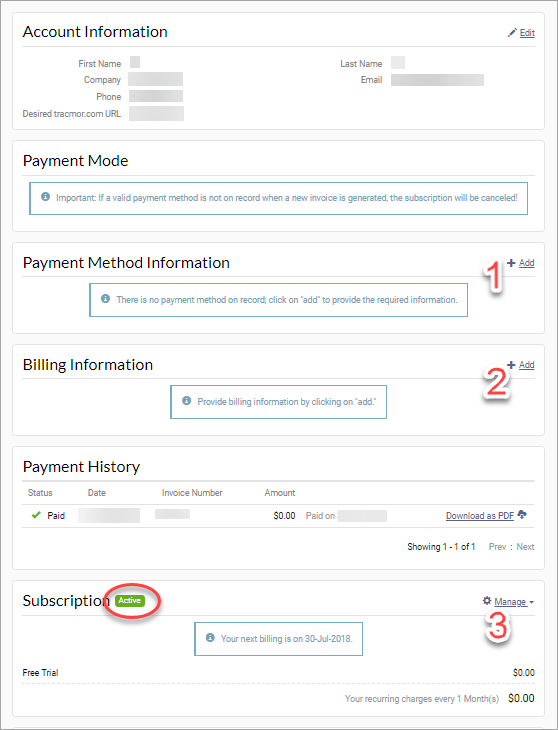 When your account status is "Active," you can click on Manage (item 3 in the screenshot above) to change your subscription level (see screenshot below). When you change your subscription, be sure to scroll to the bottom to confirm and save your changes!
Cancelling your subscription
Log in to your customer portal account to access the Subscription controls (see item 3 at the bottom of the previous screenshot). Click on Manage for the option to "cancel subscription." and then select "cancel subscription" in the next window.

See also: How do I cancel my subscription?
Reset forgotten password
If you cannot remember your password, click on "Forgot your password?" (shown by the red arrow below), then check your email for a link that will allow you to change your password.